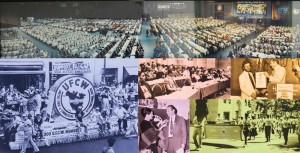 Local 888 was formed by Sidney Heller who worked for a local grocery store in New York City and who's father worked with the International Ladies Garmet Union. President Heller managed to gather Presidents from various locals with memberships of less than 500 workers and merged to create Local 888. In 1957, Local 888 was chartered by the Retail Clerks Association. Under new by-laws, the first election was held at Local 888's headquarters on Park Avenue in New York City. Its first officers: Sidney Heller; President, Manny Barfield; Secretary-Treasurer, and Jerry Perrault; Recording Secretary were elected to oversee the future of Local 888 which was later on known as the "melting pot" union after various diverse local unions were merged with it. Over its 59 year history, over 12 different locals merged to create what was previously known as Retail Clerks Union Local 888.
In 1979, the Retail Clerks International Union and the Amalgamated Meat Cutters Union merged. With a long history of fighting for justice and economic security for working families, the merger gave fruition to the United Food and Commercial Workers International Union. Local 888 then became UFCW Local 888.
In it's previous headquarters in Mount Vernon, NY Local 888 grew from 5 officers and a secretary in 1967, to over 40 employees. In 2011, UFCW Local 888 moved to it's current headquarters in East Rutherford, NJ and currently boasts a membership of 6,000 members.
Below is a list of Local 888 Presidents and their terms:
Sidney Heller    1957-1987
Jim Lucas          1987-1995
Al Guglielmo     1995-2004
Max Bruny         2004-present