NYC Labor Day Parade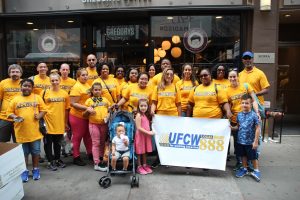 This passing Saturday, New York City celebrated union pride with their Labor Day parade. The Parade, which started at 44th street ended at 63rd street, was filled with "Union Pride" signs, music and union t-shirts of all colors. Several unions of the tri-state area came out with their members to celebrate and Local 888 was no exception.
Wearing gold t-shirts and holding their UFCW Local 888 sign, staff and Local 888 members marched the whole parade in 90 degree weather.
Special thanks to all the members that joined us! You guys are the real M.V.Ps. See you all again next year!