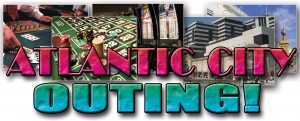 Local 888 believes that our members are our family, therefore, each year we schedule special events for our members to enjoy. One of our main annual events is the Atlantic City Day Trip that happens during May of each year. During the Atlantic City Day trip our members get to enjoy a bus ride to South Jersey with their Union Delegate and Union staff. Buses are provided for transportation from different locations for members and their loved ones.
Do not like the casino? No problem. Atlantic City has a ton of fun things for you. Everything you could possibly want is within walking distance, from shops to five-star restaurants to casinos, attractions and great shows. You can indulge in a luxurious spa treatment, walk the world-famous Boardwalk, do some shopping or simply enjoy the area's famous beach.
For information on next year's Atlantic City Day Trip, contact your Union Delegate or Lourdes Lanzot at 1-800-223-1503 Ext. 129.